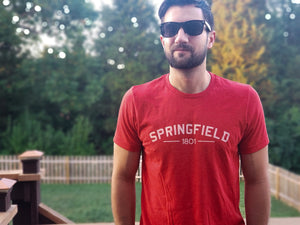 Why 1801?
At the beginning of 2019, we welcomed change as we moved from our original retail home to a new location on Fountain Ave. With the move, we met shoppers who had never been to our store before and we were seeing the same shopper more than once a week! It's always good to introduce new graphics to circulation but now more than previous years, there was a higher demand.
One of the newest graphics we introduced was the Springfield 1801 design. As we do at Champion City, we love celebrating where we've come from and this time we went all the way back to the beginning. 
In 1799, James Demint traveled from Kentucky and constructed the first cabin on land that would eventually become known as Springfield. Only a couple of year's later in 1801, the city was officially founded when James Dougherty surveyed the area and platted the town. 
The Springfield 1801 graphic honors the 200 + year life Springfield has had. There have been prosperous years and years that have been difficult to overcome. However, through it all Springfield has continued to persevere and this tee is a little reminder of that. 
---